Battling children's cancer in the bush — Kasey McClay's story
08/03/
2020
When 16-year-old Kasey McClay had a sore knee back in February, she thought it was just a niggle from netball… Read more
When 16-year-old Kasey McClay had a sore knee back in February, she thought it was just a niggle from netball training. Then in June, a collision during a game landed her in Swan Hill hospital for an X-ray. There a doctor noticed a strange spongy growth on Kasey's thigh bone and told her family to drive straight to Melbourne. Kasey and her mum Sharon left their farm in Barham on the Victorian New South Wales border and arrived at the Royal Children's Hospital the next day. A week later they discovered Kasey had osteosarcoma — a type of bone cancer — and their world turned upside down.
"It was a complete shock", said Kasey. "After I was diagnosed on 12 June, everything went so fast. We were allowed to go back home for 24 hours to pick up some more clothes before we had to move to the city full-time. It was tough to say goodbye to my dad and brother Leonard".
For Sharon and Robin — Kasey's parents — the news forced them to make some tough decisions about how they would manage their finances, the farm, and their family.
As Sharon explained, "The whole family was shocked. I immediately then resigned from my role as Teacher Director at the Wakool Preschool because I needed to focus 100 percent on Kasey. But we still had the farm to run. So, we decided Robin should stay home to manage our 1,500-acre rice and beef property, which would allow Leonard to go to school (Barham High School) as normal".
Kasey and Sharon stayed with a charity offering 'home away from home' style accommodation in Melbourne's Parkville for a month to begin Kasey's grueling treatment before moving to a small apartment in North Melbourne.
Kasey said, "I had many tests, a couple of small operations, and two rounds of chemotherapy before I had major leg surgery. They also put in a 'port', which is a tube that allows me to get my medicine intravenously easily without damaging my veins and other organs.
In late August, a team of orthopedic and plastic surgeons worked for over 7 hours to remove the tumour and 12 centimetres of femur that they replaced with a mega-prosthesis. The prosthesis is supported by two titanium pins that almost run the length of my leg."
Today, Kasey is just wearing a knee brace and Tubigrip on her leg, but her day-to-day life is far from easy.
"I'm in hospital most days throughout the week and often feel sick because of the drugs I'm on so it can get pretty hard." Kasey said. "But stuff like music and art is offered to us which makes things more fun — that's where I heard about the Children's Cancer Foundation".
Aileen Boyd-Squires, Chief Executive of the Children's Cancer Foundation, said,
"Our focus is on funding clinical research and clinical trials, but we also know it's the little things that can make a difference during a long hospital stay. That's why we fund Art Therapy and Music Therapy in hospitals, as well as Family Resource Coordinators (a "non-medical friend") to help families navigate the often-overwhelming world of treatment.
Our hope is for the research we fund to find more targeted and less harmful treatments. Many drugs used to treat childhood cancer cause devastating side effects. We want to ensure that children and adolescents with cancer, like Kasey, can go on to lead happy and healthy lives."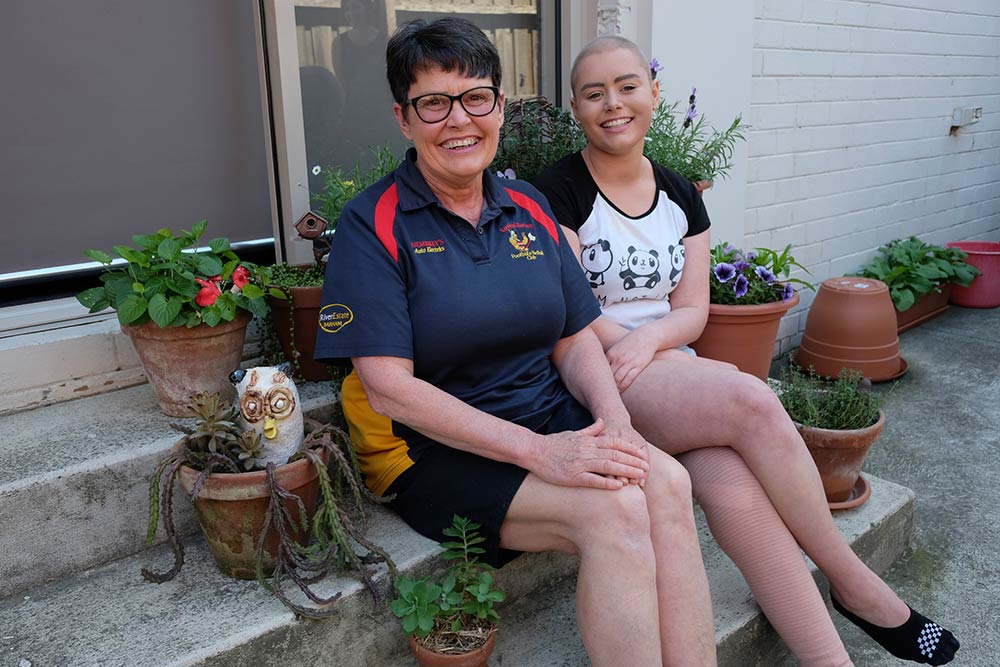 Kasey took part in the Beaded Journey, funded by the Children's Cancer Foundation, saying, "You get a different bead to put on a string to represent each step of your journey. I like it because it gives me a chance to talk about everything in a less confronting way by highlighting the positive experiences."
Kasey's Beaded Journey is now 1-metre-long — a powerful visual reminder of every treatment and milestone she endured over the past year.
Kasey and Sharon have been humbled by the kindness of everyone who's been involved their family's cancer journey.
Kasey said, "The doctors and nurses at the Royal Children's are amazing — they always make time to explain what is happening and include us in the treatment."
Sharon said, "Our community at home, our medical team in Melbourne, and the charities who've supported us have been incredible — thank you all so much".
Back in Barham, Kasey's dad and brother have been balancing the demands of running the farm with visiting Kasey.
Kasey said, "I can't go home often because we have to stay pretty close to the hospital for treatment. Also, the chemotherapy makes me feel sick so travel is difficult. So, dad and Leonard come down here as often as they can but it's a long way for them."
Kasey is also looking forward to catching up with all the family at her other brother Calan's wedding in Geelong in December.
"My doctors are hoping to be able to plan my chemotherapy around Cal and Cerryn's big day."
When asked about the future, Kasey said:
"I got some great advice from a mum on the ward whose child also had cancer. She said: 'Hold on to whatever you've got — whether it's religion or positive thinking —because it will make your beliefs stronger in the end. And just because you've got cancer doesn't mean you have to be sad all the time and stop doing all the things you like to do'."
So, right now I'm looking forward to the day when I can get home so I can see my best friends, pets, and go for a walk with my dad across our paddocks".

Beat children's cancer one bale at a time
Susan Taylor, Marketing Manager at Tama said,
"Having a child diagnosed with cancer is one of the most stressful events that can happen to a family.
That's why we're proud to partner with the Children's Cancer Foundation this year to support their vital work.
For every roll of Tama Trioplus™ Yellow silage film sold, we will donate $5 straight to the Children's Cancer Foundation.
So, if you want to help rural kids like Kasey and their families fight cancer, then make sure you turn your crop paddock yellow this harvest.
Farmers who want to get behind our campaign can contact our sales representatives to find out where they can buy our Children's Cancer Foundation Trioplus™ Yellow silage film.
Donate directly to the Children's Cancer Foundation
If you'd prefer to donate to the Children's Cancer Foundation directly or want to find out more information about their work, then you can get in touch with them here: childrenscancerfoundation.com.au